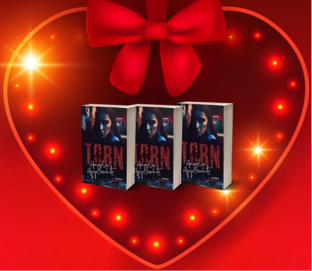 THE NEXT BEST thing to romancing on Valentine's Day is reading a good romance novel. Thanks to Litring's "Be My Book Valentine Giveaway" free downloads, you can spend the day with my sizzling and edge-of-your-seat novel: Torn: A Forensic Romance. What's romance without a little danger?
Torn is not only my first novel—released November 23, 2018, but also my very first giveaway. What does that mean? I don't have hundreds or tens of reviews just yet. But, I'm growing an organic following. So far readers are talking:

"I really enjoyed this novel."

"The story line is so good and pulls you right in. I have recommended it to everyone I know!"

"Full of passion and imagery that create all sorts of emotions. Rich and sensual language throws at the reader visualizations that are at times unsettling and others – warm."

"The suspense in the book was well planned and the clues were carefully revealed as the story unfolded."
I like that reviewers thought of potential readers when they wrote about their experiences with Torn.
If you're busy romancing today . . . carry on. But if you are looking to spend any part of the day curled up on the couch with "an incredibly sexy hero" and "a smart, strong, yet vulnerable heroine", Torn: A Forensic Romance has got you covered.
Until we chat again . . . Let There Be Romance.
Truly Yours,
Angela
P.S Add Torn: A Forensic Romance to your Goodreads and BookBub reading lists.
I would love to hear from you. Just click 'Reply' to send me a comment or a question.